We have manufactured more than 1 million t-shirts for corporate customers since 2011.
We have started to produce T-shirts for the general public from 2020.
We promise you high quality, professional and environmentally friendly production.



GILDAN BRANS® Oeko-tex100 certified, safe and secure t-shirts with sustainability in mind.
It makes a sustainable contribution to the global environment and our living environment in the future.


GILDAN BRANS® has been providing high quality casual wear since 1984 and has grown from a Canadian family business to one of the world's largest apparel manufacturers, offering a wide range of t-shirts, sportswear, and more in sizes and silhouettes to suit all ages and genders. Pursuing design.
The brand lives up to the high standards of quality, consistency and superior value you would expect from a global brand.



We care about whether our products are safe for people and the environment.
We only deliver t-shirts that are "Oeko-Tex certified", which means they are harmless to human ecology, to our customers.
These t-shirts are controlled from the raw materials to the working environment, and are designed to be sustainable for a better future for the planet.
Sparkle™ sells hundreds of thousands of t-shirts annually.
The use of OEKO-TEX® certified t-shirts significantly reduces the environmental impact of the t-shirt and will continue to contribute to a sustainable global environment and poverty alleviation.
If you would like to make your own t-shirt, we can help you.
There are many different ways to make a t-shirt.
We will carefully listen to your request and provide you with the best estimate. (We can make t-shirts from 400 yen per piece)


Sparkle aims to be your only trusted best partner for environmental friendliness, lowest price and high quality.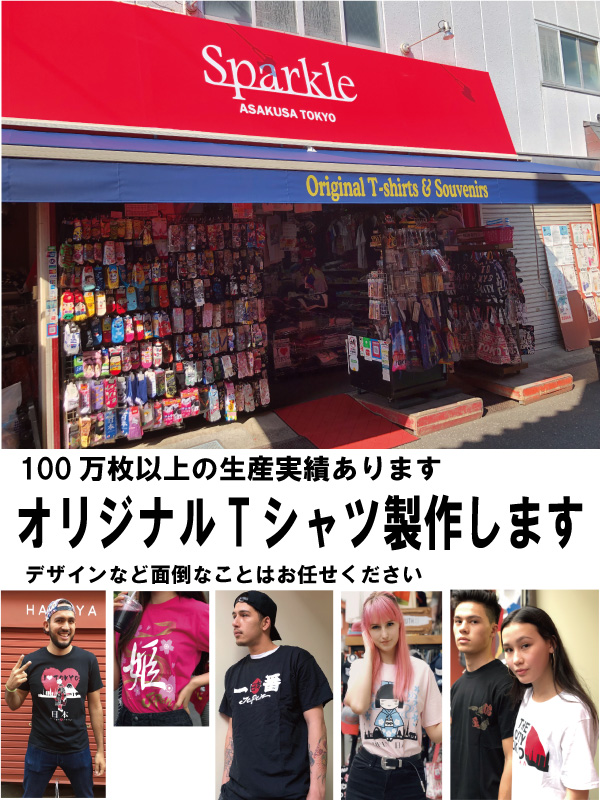 Sparkle Main Store: 03-6802-7661
You can also contact us by phone.
Open all year round: 11am-6pm.
Mail:kanetomi1975-sparkle☆yahoo.co.jp
Please change the asterisk ☆ to @. (Anti-spam))