A unique souvenir shop

"Sparkle"

in Asakusa sells Japanese souvenirs popular among the foreigners.
No. 1 sales volume in Japan for the lowest priced "T-shirt."
Sparkle opened in June, 2011 near Sensou-ji temples as a Japanese souvenir shop for foreigners.
One of the best sightseeing area in Japan, visited by many foreign tourists.

Our wish: "To all foreign tourist, men and women of all ages, we hope to offer a memento of Japan."
Sparkle holds a wide range of items, from traditional souvenirs to items with modern and fashionable designs.

All items available at the shop in Asakusa were chosen based on the popularity survey. The total number of tourists we have made the direct sales is estimated to be 1 million. The sales result has been digitalized and data managed.

We are striving to be the best and the one and only souvenir shop in Japan.

We do the planning, production control and sales for more than 50% of the products, which includes the popular T-shirts, caps, hoodies, socks, bags, fridge magnets and hand fans.→ items list
We are thankful for the popular demand of the products. We are able to offer our products at best price by keeping the cost low with in-house production. We aim to be the No.1 in Japan.

Domestically, customized T-shirts are popular. Customize your own T-shirt for the neighborhood team, restaurant or shop.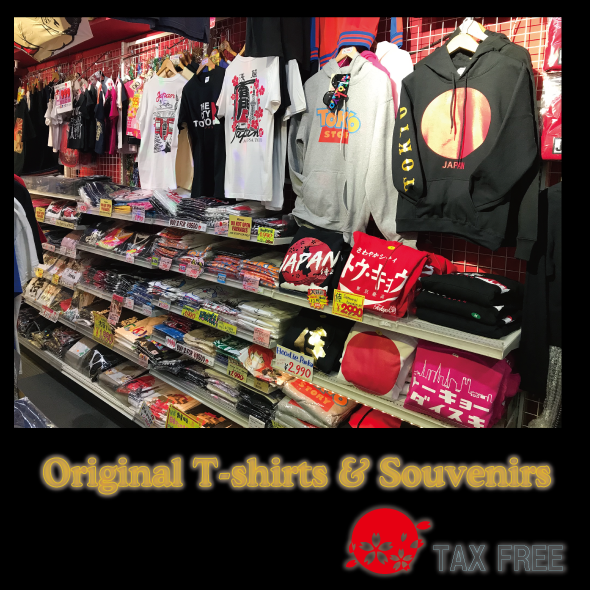 With service and hospitality
"Welcome to Tokyo, Japan."
We welcome all foreign tourists coming to Japan.
We provide tourists-friendly environment and welcome you with hospitality and assure that foreign tourists who have diverse cultural backgrounds and life styles have a great time traveling in Japan.
・Aiming at becoming the best souvenir shop in Japan.
・Eliminating the language barrier. We cover 12 languages including English.
(Please let us know if you need assistance with anything, even if it's not regarding shopping.)
・Offering discount with tax free and volume discount.
・Free Wi-Fi and free mobile phone charging.
・Variety of payment methods
・Exchange rate of the day will be applied. (No handling charge)
・Luggage storage→enjoy sightseeing without your luggage.
・Shipping service
・Muslim prayer room
(No purchases at the store is required.)
---
Operating company company profile
Company Name
KANETOMI CO., LTD.
Established
March,1976
CEO
HiDEYUKI TANAKA
Location
〒111-0032
1-37-2 Asakusa, Taito-ku, Tokyo
Phone
813-6802-7661
E-mail
tanaka★hideyuki.name (Please change ★ to @)
Employees
10 people or less
Business contents
Apparel manufacturing. Wholesale business, retail store business, trade, design, web production etc.
URL
https://kanetomi.tokyo